Explore More, Worry Less
The vacation you've dreamed of for years can be ruined in just
a moment. Travel insurance helps protect your investment.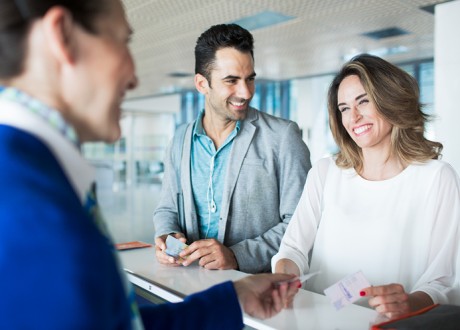 Why Buy Travel Insurance?
As the day of your departure approaches, we want to help you be prepared for the unexpected and make the most of your vacation. When it comes to common travel problems before and during your trip, travel insurance can help protect you if:
A family member gets sick
Your baggage is lost
Your trip is delayed
Your passport is lost or stolen
You need last minute travel arrangements
Weather prevents your travel
Compare Travel Insurance Plans
A full range of coverage for all types of trips
AAA offers several travel insurance plans through Allianz Travel Insurance to help
cover the cost of a variety of
unforeseen events and mishaps.
TripAssist Choice *Best Value*
Vacations are an opportunity to get away and relax! Don't let unexpected travel hassles make you wish you had never left home. TripAssist Choice doubles nearly all the post-departure coverage of the TripAssist Family Care Plan—including emergency medical and transportation benefits, baggage loss protection, and more. †

View Plan


Allianz Travel Insurance also offers the following standard plans:
TripAssist Family Care
You'd like to believe that your trip will go as planned. But if something happens, you want to be prepared. This plan prepares you for the unexpected with generous levels of protection for domestic and international travel. It's the ideal travel companion with features like trip cancellation protection, emergency medical benefits, 24-hour emergency assistance, and more! †

View Plan


TripAssist Family Care with Cancel Anytime
When you take your family on an international vacation, you want the peace of mind that you are protected by the right amount of coverage. This plan gives you the extra flexibility to cancel your trip for almost any unforeseen reason that the TripAssist Family Care plan does not already cover at 100% and receive 80% of your non-refundable trip cost back! †

View Plan


TripAssist Basic
You may think you can't afford both the fun and the insurance to protect it. But the Basic Plan is so affordable that you can have it all. Our Basic Plan covers a wide variety of unforeseen situations that could force you to cancel or interrupt your trip. The plan also offers existing medical condition coverage and 24-hour assistance services, allowing you to purchase your trip with complete confidence! †

View Plan


TripAssist Essential
Our most affordable plan. If you're looking to protect the financial investment you make in your domestic air travel, TripAssist Essential may be an ideal option. Good if you're seeking trip cancellation and trip interruption coverage, it also offers travel delay coverage and 24-hour assistance services. †

View Plan


If you are not satisfied, and you have not filed a claim or departed on your trip, you may cancel your travel insurance within 15 days of purchase for a full refund of your insurance premium. The review period varies by state; please refer to your insuring agreement for details.
Products may not be available to residents of all states.
† Terms, conditions and exclusions apply. Insurance benefits underwritten by either BCS Insurance Company or Jefferson Insurance Company, depending on insured's state of residence. AGA Service Company is the licensed producer and administrator of these plans.
Call (610) 374-5600 and talk to a travel consultant to make sure that you get the right protection at the best price.