Travel Smarter with AAA's TSA PreCheck Pop-Up Event
Experience traveling with fewer hassles and less stress! Schedule your appointment with a TSA PreCheck agent at AAA! $78 per applicant. Good for 5 years!
---
Travel Incentive
 
Book a Cruise or Tour with AAA Reading-Berks and receive your $78 enrollment fee towards your trip.
**Restrictions apply. Cruise or Tour must be for seven (7) nights or longer. Minimum per person rate of $3,000.
Must be a NEW booking made within 14 days after your TSA appointment.
 
---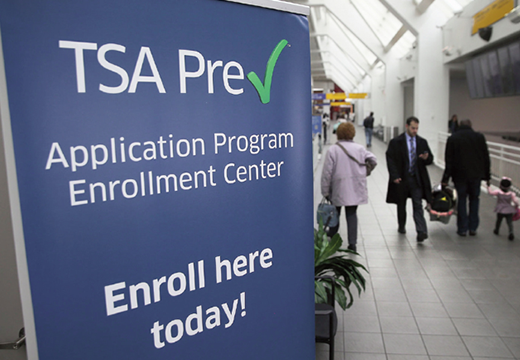 Upcoming TSA Pop-Up Event
March 18 - 22
9:00am-12:00pm, 1:00pm-5:00pm
This pop-up event is for the above specified week only.
Appointments are available approximately 30 days prior to event.
Step 1. CLICK HERE or visit tsaenrollmentbyidemia.tsa.dhs.gov to enroll.
Step 2. Select "New Enrollment" or "Renewal."
Step 3. Fill out the application on pages 1-3.
Take note of what documents are required.
Step 4. On page 4, select your location, AAA Reading-Berks.
Click NEXT at the bottom.
Step 5. Select your appointment date and time from what is available.
Once you've made your selection, submit your application.
You will receive a confirmation on the next page as well as via email.
Appointments must be made online through the website listed above.
If you want a TSA pre-check appointment outside of the specified dates, you may select a different location after completing your application or you can sign up for future alerts for the location that you prefer.

Have questions or need help setting up an appointment? Call the TSA Pre-Check Line at 855-347-8371 (8am-10pm EST, Monday-Friday)