Headlight Restoration Service
Are you skimping on headlight safety?
Most modern headlight lenses are made of clear and nearly unbreakable polycarbonate plastic or a similar material. The lenses are treated at the factory with a special coating that protects them from the ultraviolet (UV) rays in sunlight, vehicle exhaust fumes and other environmental contaminants. In fact, to obtain government approval, plastic headlight assemblies must pass a three-year U.S. Department ofTransportation durability test. 
In normal use, the life of a headlight's protective coating depends on the level of exposure to the hazards mentioned above - especially the amount and intensity of sunlight. AAA inspected a representative sample of used vehicles and determined that five years is the approximate timeframe in which visible deterioration of headlight lenses begins to appear.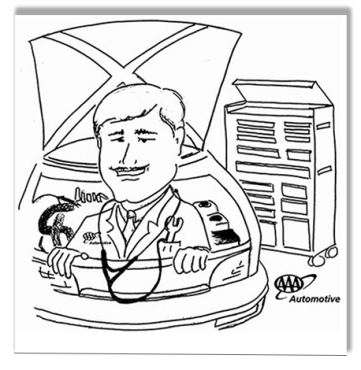 Don't Be Left In The Dark
Despite the indisputable benefits for nighttime vision and driving safety, AAA survey results found just 20% of Americans have had deteriorated headlights refinished. Maintaining clear headlights is a critical component of auto care that you can't ignore. If your car's headlights are still in good shape, consider using a regular protective treatment to keep them that way. If deterioration has already occurred, see your way clear (pun intended) to refinish your headlights at the earliest convenient opportunity with a do-it-yourself refinishing product or make an appointment with AAA to have your deteriorated head-lights restored for only $59.95* (both headlights). 
AAA can help you dramatically improve the performance of
deteriorated headlights by refinishing the lenses.
SEE ONE OF OUR PREFERRED VENDORS BELOW