Gas Prices Slump Slightly as Summer's End Approaches
Gas Prices Slump Slightly as Summer's End Approaches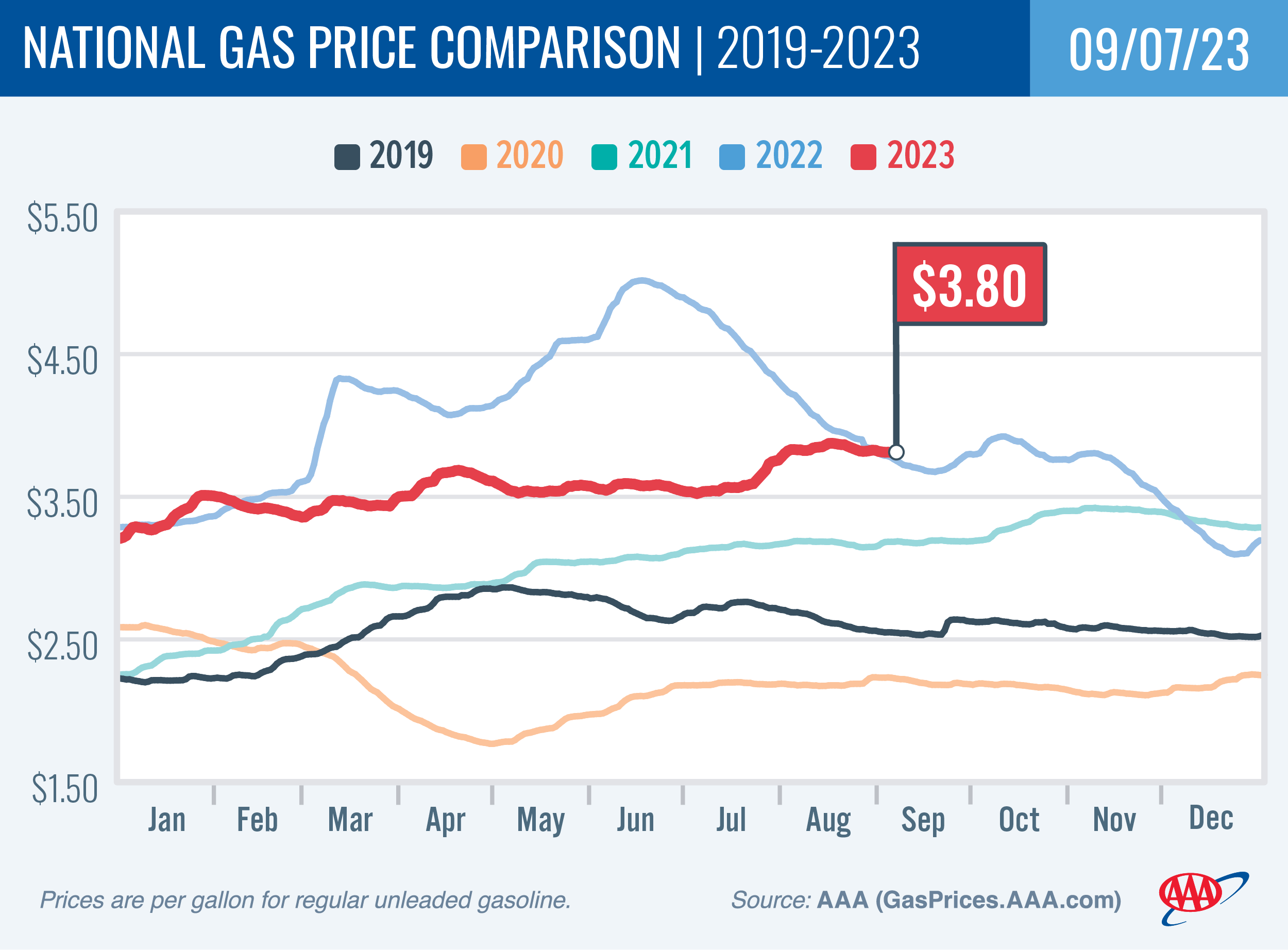 The national average for a gallon of gas dipped a bit following the long Labor Day weekend, falling two cents since last week to $3.80. The decrease comes despite a recent uptick in the price of oil, the primary ingredient in gasoline. 
 "Pump prices appear to be defying the odds at the moment, despite the surge in the cost of oil,"  said Andrew Gross, AAA spokesperson. "This uneasy balancing act may last until we get beyond hurricane season and its threats to Gulf Coast oil and gas production and refining."  
According to new data from the Energy Information Administration (EIA), gas demand increased from 9.07 to 9.32 million b/d last week. Meanwhile, total domestic gasoline stocks dropped from 217.4 to 214.7 million bbl. Rising oil prices, higher gas demand, and tighter supply may push pump prices higher.
Today's national average of $3.80 is two cents less than a month ago but four cents less than a year ago.
Quick Stats
Since last Thursday, these 10 states have seen the largest changes in their averages: Michigan (−7 cents), Wisconsin (−7 cents), California (+6 cents), Nevada (+6 cents), Delaware (−6 cents), Ohio (−6 cents), Washington, D.C. (−6 cents), Maryland (−6 cents), South Carolina (−5 cents) and Tennessee (−5 cents).
The nation's top 10 least expensive markets: Mississippi ($3.28), Louisiana ($3.35), Texas ($3.37), Tennessee ($3.39), Alabama ($3.40), Arkansas ($3.40), South Carolina ($3.45), Kentucky ($3.47), Missouri ($3.49) and North Carolina ($3.50).
Oil Market Dynamics
.
At the close of Wednesday's formal trading session, WTI increased by 85 cents to settle at $87.54. The price of oil has increased this week amid news that Saudi Arabia plans to continue its voluntary 1 million b/d production cut through the end of the year. Tight supply could boost oil prices if demand remains robust. Additionally, the EIA reported that total domestic commercial crude inventories decreased significantly from 422.9 to 416.6 million bbl.
Drivers can find current gas prices along their route using the AAA TripTik Travel planner.