Did We Reach the Top Gas Price for 2023? Stay Tuned
Did We Reach the Top Gas Price for 2023? Stay Tuned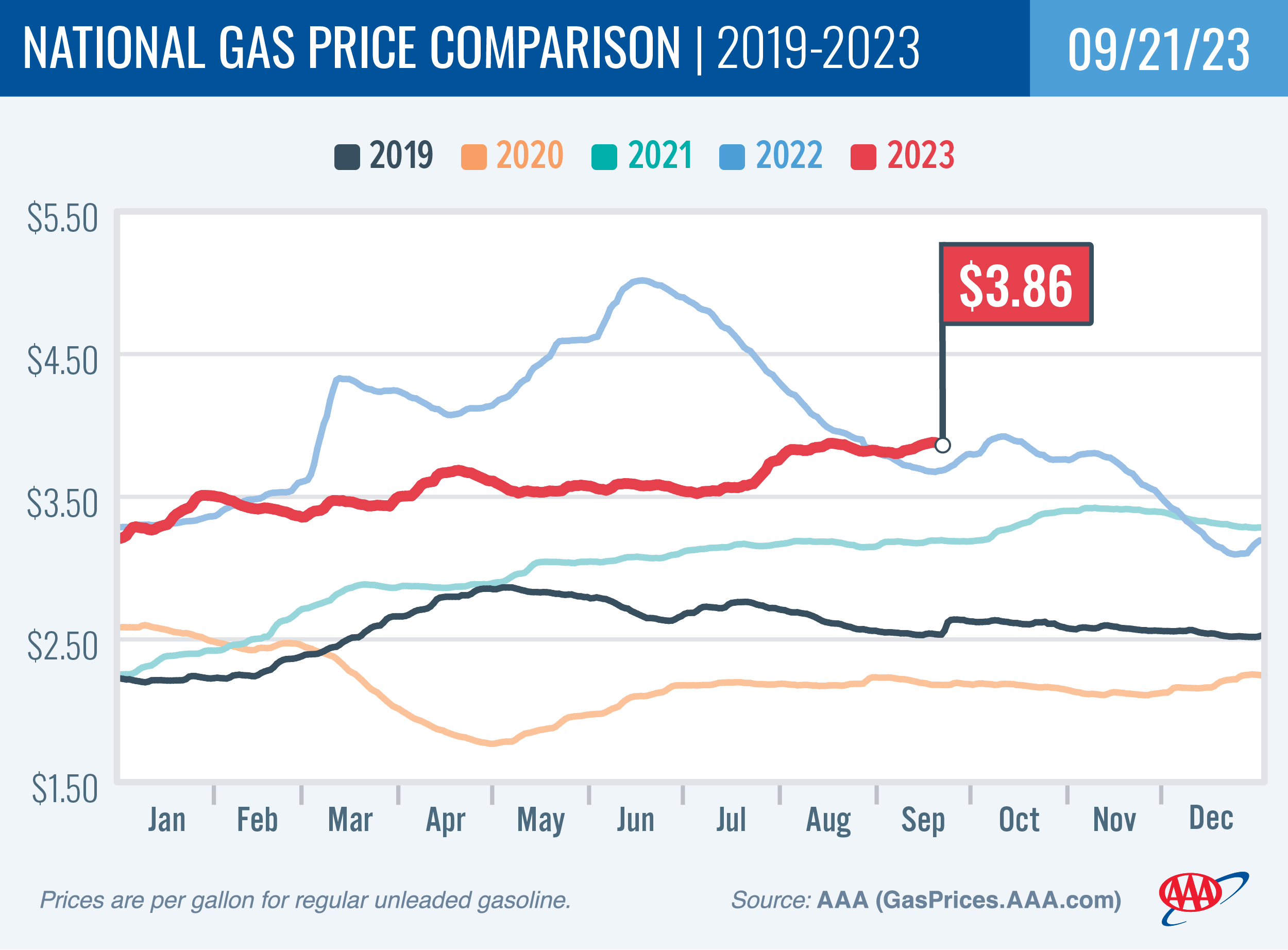 The national average for a gallon of gas hit what may be 2023's peak price of $3.88 earlier this week, only to slide a few cents in the following days.  Today's average is $3.86 - a penny more than a week ago.    
 "The recent drop in the national average, while small, is fairly typical this time of year as much of the country makes the switch to less expensive winter blend gasoline," said Andrew Gross, AAA spokesperson. "But the gradual seasonal decline in pump prices is being slowed by higher oil costs, hovering around $90 a barrel."
According to new data from the Energy Information Administration (EIA), gas demand rose slightly from 8.31 to 8.41 million b/d last week. Meanwhile, total domestic gasoline stocks declined slightly from 220.3 to 219.5 million bbl. Higher gas demand, amid tighter supply, has contributed to elevated pump prices, but oil remaining above $90 per barrel continues to steer the price increases seen by drivers.
Today's national average of $3.86 is the same as a month ago but 18 cents more than a year ago.
Quick Stats
Since last Thursday, these 10 states have seen the largest changes in their averages: Nevada (+33 cents), California (+29 cents), Georgia (−15 cents), Arizona (+14 cents), Iowa (−11 cents), Florida (+8 cents), North Dakota (−8 cents), Minnesota (−8 cents), Utah (−7 cents) and Oklahoma (−7 cents).
The nation's top 10 most expensive markets: California ($5.79), Washington ($5.06), Washington ($5.04), Hawaii ($4.83), Oregon ($4.68), Arizona ($4.65), Alaska ($4.60), Utah ($4.25), Montana ($4.19) and Idaho ($4.14).
Oil Market Dynamics
At the close of Wednesday's formal trading session, WTI decreased by 92 cents to settle at $90.28. Oil prices decreased yesterday due to ongoing market concerns that energy demand could be lowered if future interest rate increases tip the U.S. economy into a recession. Additionally, prices declined yesterday despite the EIA reporting that total commercial crude stocks decreased by 2.1 million bbl to 418.5 million bbl last week.
Drivers can find current gas prices along their route using the AAA TripTik Travel planner.