Use Promo Code GIFTJOIN to waive $10 entrance fee. Offer expires October 31, 2020.

Convenient & flexible ways
to pay for your membership
Pay the full amount for your AAA membership dues once per year. When your expiration date approaches, we'll send you a bill to remind you to pay your dues again.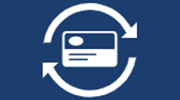 Avoid a lapse in coverage when your renewal is automatically charged to your credit card.