The Heat is On: Are High Temps Impacting Road Travel?
The Heat is On: Are High Temps Impacting Road Travel?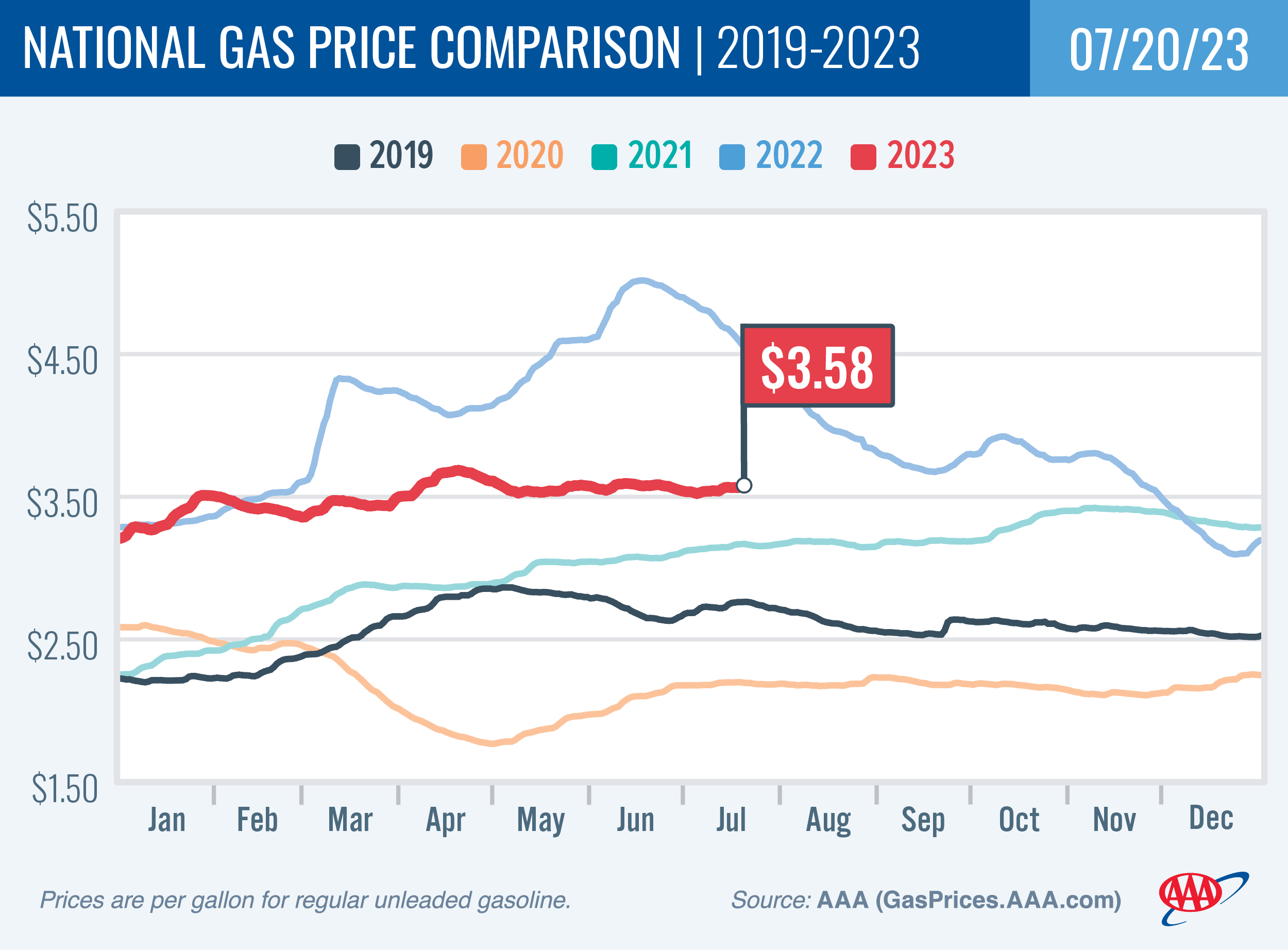 Despite another week of lackluster demand for gasoline, pump prices rose three cents since last Thursday to $3.58. The primary culprit is a higher oil price, which has recently increased to the mid-$70s per barrel.  
 "Gas demand barely budged from last week, yet compared to this time in 2022, it is higher nationwide except for the Gulf Coast, Texas, and New Mexico," said Andrew Gross, AAA spokesperson. "Some industry experts speculate that scorching temps in that region are keeping people off the road."
According to new data from the Energy Information Administration (EIA), gas demand increased slightly from 8.76 to 8.86 million b/d last week. Meanwhile, total domestic gasoline stocks fell from 219.5 to 218.4 million bbl. With supplies tight, if demand climbs, pump prices will follow suit.
Today's national average of $3.58 is a penny more than a month ago but 88 cents less than a year ago.
Quick Stats
Since last Thursday, these 10 states have seen the largest increases in their averages: South Carolina (+15 cents), Utah (+10 cents), Tennessee (+7 cents), Virginia (+6 cents), Pennsylvania (+5 cents), Louisiana (+5 cents), Georgia (+5 cents), Alabama (+5 cents), Oklahoma (+5 cents), and Indiana (+5 cents).
The nation's top 10 most expensive markets: Washington ($4.92), California ($4.89), Hawaii ($4.68), Oregon ($4.58), Alaska ($4.30), Nevada ($4.22), Utah ($3.93), Idaho ($3.89), Illinois ($3.83) and Colorado ($3.82).
Oil Market Dynamics
At the close of Wednesday's formal trading session, WTI decreased by 40 cents to settle at $75.35. Oil prices slid yesterday in response to market concerns that crude demand may soften in the months ahead. Due to extended repair timelines at refineries, lower refinery oil usage rates could influence how much oil prices decline. Additionally, the EIA reported that total domestic commercial crude inventories decreased by 700,000 bbl to 457.4 million bbl.
Drivers can find current gas prices along their route using the AAA TripTik Travel planner.