Desert Escapes of California & Arizona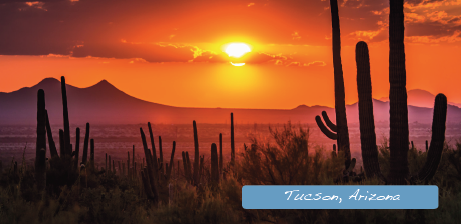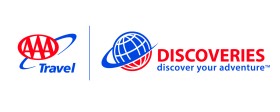 Travel Dates
October 6-13, 2020
How to Book:
Download Flyer
Itinerary
Tuesday, October 6: Depart for Palm Springs
Depart Central PA and fly to Palm Springs, CA to start your incredible vacation. Upon
arrival, transfer to your hotel. Welcome to Palm Springs! A star-studded city nestled in
the Sonoran Desert of southern California, it was the getaway for Hollywood legends
Frank Sinatra, Elvis, Dean Martin and Loretta Young in the 1950s and 60s. It now prides
itself on its glory years with a nod to its glitzy past evident in its retro architecture.
This evening meet your Travel Director and fellow travelers for a Welcome Dinner.
Hotel: Andaz Palm Springs, Palm Springs (Dinner with Wine)
Wednesday, October 7: Out and about in Palm Springs
Start the day with a tour of Palm Springs' mid-century architecture with a history and architectural expert. Learn about the
architects that have shaped the landscape of Palm Springs, including Richard Neutra, John Lutner, Donald Wexler and the
Alexander brothers. Enjoy the rest of the morning at leisure on your own. The afternoon presents an exhilarating optional
drive in four-wheel Jeeps along the San Andreas Fault Line. It is one of the most famous sections of the Ring of Fire in
North America. View the most recent uplifting of the earth's crust creating some extraordinary slot canyons. Discover how
the Cahuilla speaking an Uto-Aztecan language came to call the Coachella Valley their home. Roam around giant native
palm in a desert oasis located within the Indio hills. Gain new insights as you experience the spectacular landscape shaped
by mighty geologic forces. Tonight, a selection of restaurants is available on your Dine-Around evening in Palm Springs.
(Breakfast, Dinner with Wine)
Thursday, October 8: Joshua Tree National Park
This morning you'll depart from your hotel for an excursion to Joshua Tree National Park, which is characterized by the
strangely shaped Joshua trees, rugged rock formations and stark desert landscapes. Your knowledgeable Travel Director
will bring the park's history and geology to life. Later, you'll experience the Palm Springs Aerial Tramway, the world's largest
rotating tram car, as it travels along the breathtaking cliffs and transports you to the pristine wilderness of the Mt. San Jacinto
State Park. As you ascend on your ten-minute journey, the tram car rotates slowly, offering amazing vistas of the valley floor
below. In the evening head to Palm Springs Village Fest, a street fair featuring arts, crafts, food and entertainment, based on
Palm Canyon Drive. (Breakfast)
Friday, October 9: Palm Springs and Scottsdale
Today you'll move from Palm Springs to Scottsdale. Once you're in the Phoenix/Scottsdale area we'll be stopping at the
Heard Museum for a guided tour. The museum is dedicated to the advancement of American Indian art.
Hotel: Hotel Valley Ho, Scottsdale. (Breakfast)
Saturday, October 10: Flavor of Arizona
Start the day with a guided tour of your famous hotel, Valley Ho. Meet a Local Expert who will take you on a guided tour of
the property and talk to you about its glitzy Hollywood history and architecture. Later, meet with the chef of this evening
experience for a walk through the stalls of the Old Town Farmers Market. This afternoon enjoy an Insight Choice between a
small-group tour of Old Town Scottsdale on golf carts OR a meeting with artists at Cattle Track, an artist compound. In the
evening, you'll be introduced to the authentic flavors of the region as you head to a cooking demonstration and hands on
experience. You'll learn to cook classic Southwestern and Mexican staples such as enchiladas, spicy meat dishes and Spanish
rice. Once you've had a lesson from the expert, sit and indulge in your tasty masterpiece. (Breakfast, Dinner with Wine)
Sunday, October 11: Gastronomic Tucson
Named as the first UNESCO City of Gastronomy, Tucson will offer you a day of tasty treats. Meet a Local Expert who will guide
you through the city on a Foodie Tour, which will be included as your lunch. Tucson is known for its farmer's markets, annual
food festivals and fairs that specialize in their southwestern food options. Later, check in to your hotel and enjoy a leisurely
evening. Ask your expertly trained Travel Director for tips on where to head or for places to eat.
Hotel: Loews Ventana Canyon Resort, Tucson (Breakfast, Lunch)
Monday, October 12: Tucson
Start the day with a morning visit to Saguaro National Park. Situated in southern Arizona, this beautiful park seduces visitors
with its wild, rugged land and striking views of the desert landscape. The park is split into two sections on either side of the
city of Tucson. In the afternoon you'll make your way to Kartchner Caverns State Park. Once here you'll explore the park's
fascinating show cave, which holds 2.4 miles of passages to explore. Originally discovered in 1974 by local cavers, the park's
caverns are Arizona's largest living cave system. Enjoy leisure time in the afternoon back at your hotel before heading to your
Celebration Dinner. Toast to your travels with your new friends before your trip comes to an end tomorrow. There will also be
time for stargazing after dinner with a professional astronomer. Look up to the stars through the largest moving compound
telescope in the world, as an expert explains the science behind what you're seeing. (Breakfast, Dinner with Wine)
Tuesday, October 13: Depart for Home
This morning enjoy breakfast before transferring to the airport with fond memories of a great trip. (Breakfast)
Your Trip Includes
• Roundtrip transfers airport/hotel
• Hotel accommodations for seven nights
• Sightseeing as stated in itinerary by luxury coach
• Services of a Professional Insight Vacations Tour Manager
• Meals: 7 Breakfasts, 1 Lunch and 4 Dinners with wine
• All local taxes, hotel service charges & porterage for one suitcase
per person
• Services of a Discoveries Journey Manager
Trip Cost
| CATEGORY | PRICE PER PERSON |
| --- | --- |
| Double | $3,049.00 |
| Single | $4,219.00 |
| Triple | $2,729.00 |
$225.00 per person due at time of booking to confirm your reservation. Final Payment Due: July 24, 2020
Limits on AAA Travel's Responsibilities: The American Automobile Association, Inc., gives notice that all tickets and coupons are issued and delivered by them and all arrangements for transportation or conveyance, or for hotel accommodations are made by them as AGENTS, upon the express conditions that they shall not be liable for any injury, damage, loss, accident, delay, or irregularity which may be occasioned by reason or defect in any vehicle or through the act of default of any company or person engaged in conveying the passenger or hotel proprietor, or employee, or in carrying out arrangements of the tour, or otherwise in connection therewith. No carrier shall have or incur, any responsibility to any persons taking this tour, except its liability as a common carrier. The airline and/or steamship lines concerned are not to be held responsible for any act, omission, or events, during the time the passengers are not on board their plane or conveyances. The passage contract in use by the airline and/or steamship concerned when issued shall constitute the sole contract between the carrier and purchaser and/or passenger of these tours. The aforesaid American Automobile Association, Inc. can accept no responsibility for losses or additional expensed due to delay or changes of schedule, weather, strikes, war quarantines, or other causes. All such losses or expenses shall have to be borne by the passengers. AAA Travel Agency regrets that it cannot provide individual assistance to a tour/cruise member for walking, dining, or other personal needs. A companion must accompany persons needing such assistance.