Aer Lingus Football Classic - Notre Dame vs Navy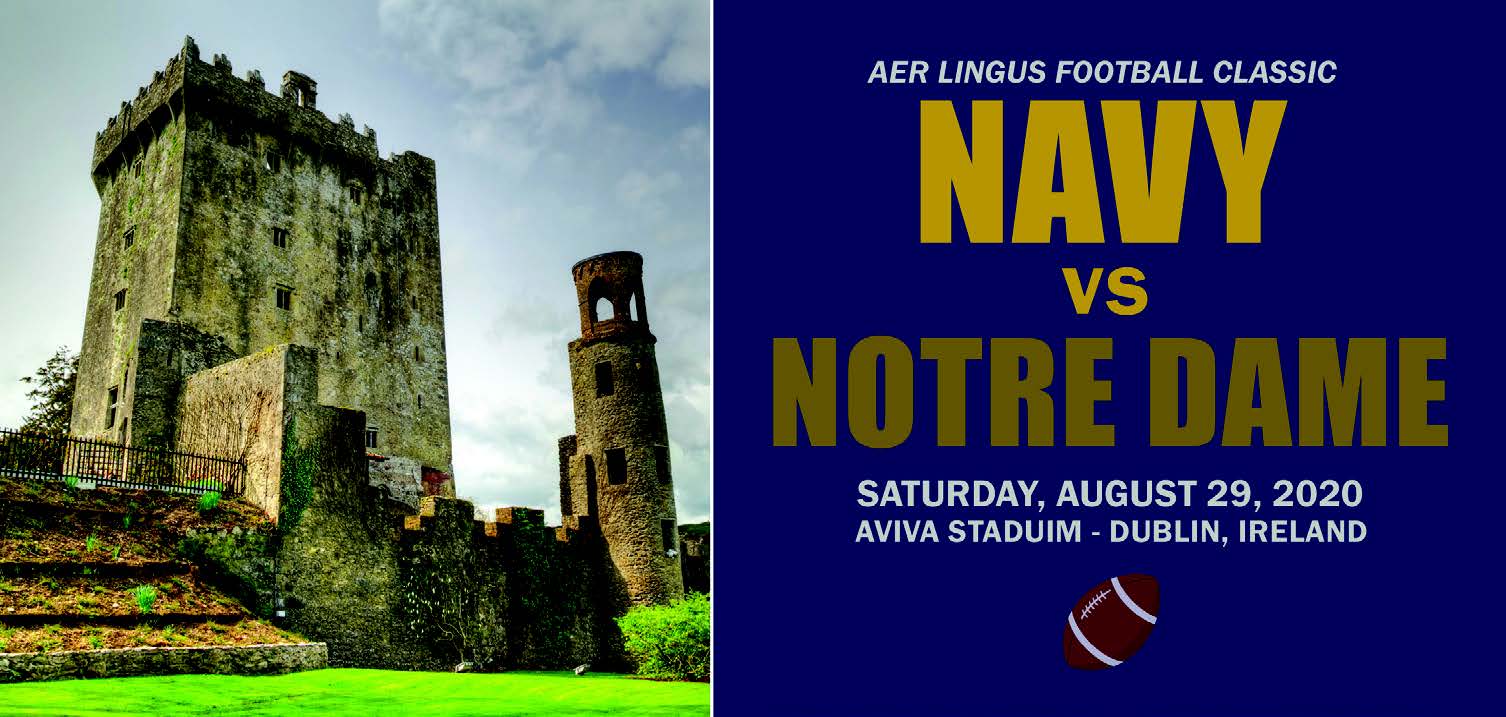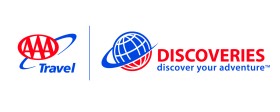 Travel Dates
August 24-31, 2020
How to Book:
Download Flyer
Itinerary
Monday, August 24: Depart for Ireland
Motorcoach from Central PA to local international airport for overnight flight to Shannon.
Tuesday, August 25: Shannon Arrival
Welcome to Ireland! After landing at Shannon Airport, we'll meet our CIE Tours driver/guide. Next, we'll drive along the coast of scenic
County Clare and stop to visit the Cliffs of Moher, one of Ireland's most beloved, natural landmarks. See magical vistas, overlooking
the shimmering Atlantic Ocean along with Ireland's Western coastline. After your visit, take a short ferry ride across the River Shannon
Estuary. Then, continue your journey to Killarney, to check into your hotel and settle into your room with time to freshen up before
dinner. In the evening, join your fellow travelers for dinner in the hotel restaurant. Hotel: Great Southern Hotel, Killarney (Dinner)
Wednesday, August 26: Dingle Peninsula
Today, discover the beauty of the Dingle Peninsula, once described by the National Geographic Traveler as "the most beautiful place on
earth". Drive along the south shore of the peninsula for plenty of vistas of heathery mountains, sandy stretches of beach, stunning green
landscapes and rocky headlands. Pause at strategic locations to admire the views and take photos. Return to your hotel in Killarney,
where the remainder of the day is free to sightsee, shop and dine on your own. (Breakfast)
Thursday, August 27: Blarney Castle & Woolen Mills
We'll leave Killarney and drive to Blarney, where you can climb the battlements of Blarney Castle and kiss the famous "Stone of Eloquence".
Visit the Blarney Woolen Mills, which has an excellent range of Irish products. You will have time to browse around the village, charmingly
set around a large village green. After your visit, continue your journey through Ireland's countryside into the lively city of Dublin, check
into your hotel and settle into your room. Spend the remainder of the day at leisure for individual pursuits and dining.
Hotel: Red Cow Moran Hotel, Dublin (Breakfast)
Friday, August 28: Dublin Sightseeing
This morning, set off with a local guide who will show you around Dublin. The city has been molded through centuries with many
architectural styles, reflecting the economic, political and artistic influences. Stop to tour Guinness Storehouse to see exhibits on how
this world famous stout was first created and why it is so popular today. Finish your visit in the roof-top bar, where you can sample a draft
of Guinness. Return to your hotel, where you may like to relax or freshen up before this evening's festivities. Tonight, drive into the town
of Rathfarnham to Taylors Three Rock to enjoy a pre-game Tailgate Party with your group, which will include dinner.
(Breakfast, Tailgate Party Dinner)
Saturday, August 29: Navy vs Notre Dame
Today is the day you've been waiting for! Head to Aviva Stadium, a sporting stadium with a capacity for 51,700 spectators. It is also
commonly known as Lansdowne Road, while UEFA refers to it as the Dublin Arena. The stadium opened May 14, 2010 and is built on the
site of the old Lansdowne Road Venue. Notre Dame will verse Navy in what is hoped to be an epic game, where bragging rights are on
the line. Dinner will be on your own this evening before returning to the hotel. (Breakfast)
Sunday, August 30: Malahide Sightseeing
After breakfast, travel into Malahide and stop to visit Malahide Castle, a visually remarkable ancient castle set outside the beautiful town of
Malahide. After a tour of the castle, enjoy some time at leisure to explore this quaint upscale town. Return to your hotel in Dublin, where
the rest of the day is free for independent sightseeing, shopping, dining, pubs and much more. (Breakfast)
Monday, August 31: Return to the United States
After breakfast, transfer to Dublin Airport for your flight home and transfer to Central PA. (Breakfast)
Your Trip Includes
• Free parking with roundtrip transfers to local international airport
• Roundtrip transfers – airport/hotel
• Six night hotel accommodations
• Sightseeing as stated in itinerary by luxury coach
• Services of Professional CIE driver/guide
• Meals: 6 Breakfasts, 1 Dinner
• Tailgate party Dinner at Taylors Three Rock
• All local taxes, hotel service charges & porterage for one suitcase
per person
• Services of a Discoveries Journey Manager
Trip Cost
| CATEGORY | PRICE PER PERSON |
| --- | --- |
| Double | $2,639.00 |
| Single | $3,479.00 |
$625.00 per person due at time of booking to confirm your reservation. Final Payment Due: May 12, 2020
Limits on AAA Travel's Responsibilities: The American Automobile Association, Inc., gives notice that all tickets and coupons are issued and delivered by them and all arrangements for transportation or conveyance, or for hotel accommodations are made by them as AGENTS, upon the express conditions that they shall not be liable for any injury, damage, loss, accident, delay, or irregularity which may be occasioned by reason or defect in any vehicle or through the act of default of any company or person engaged in conveying the passenger or hotel proprietor, or employee, or in carrying out arrangements of the tour, or otherwise in connection therewith. No carrier shall have or incur, any responsibility to any persons taking this tour, except its liability as a common carrier. The airline and/or steamship lines concerned are not to be held responsible for any act, omission, or events, during the time the passengers are not on board their plane or conveyances. The passage contract in use by the airline and/or steamship concerned when issued shall constitute the sole contract between the carrier and purchaser and/or passenger of these tours. The aforesaid American Automobile Association, Inc. can accept no responsibility for losses or additional expensed due to delay or changes of schedule, weather, strikes, war quarantines, or other causes. All such losses or expenses shall have to be borne by the passengers. AAA Travel Agency regrets that it cannot provide individual assistance to a tour/cruise member for walking, dining, or other personal needs. A companion must accompany persons needing such assistance.