2019 Independence Day Holiday Travel Forecast FAQ
2019 Independence Day Holiday Travel Forecast FAQ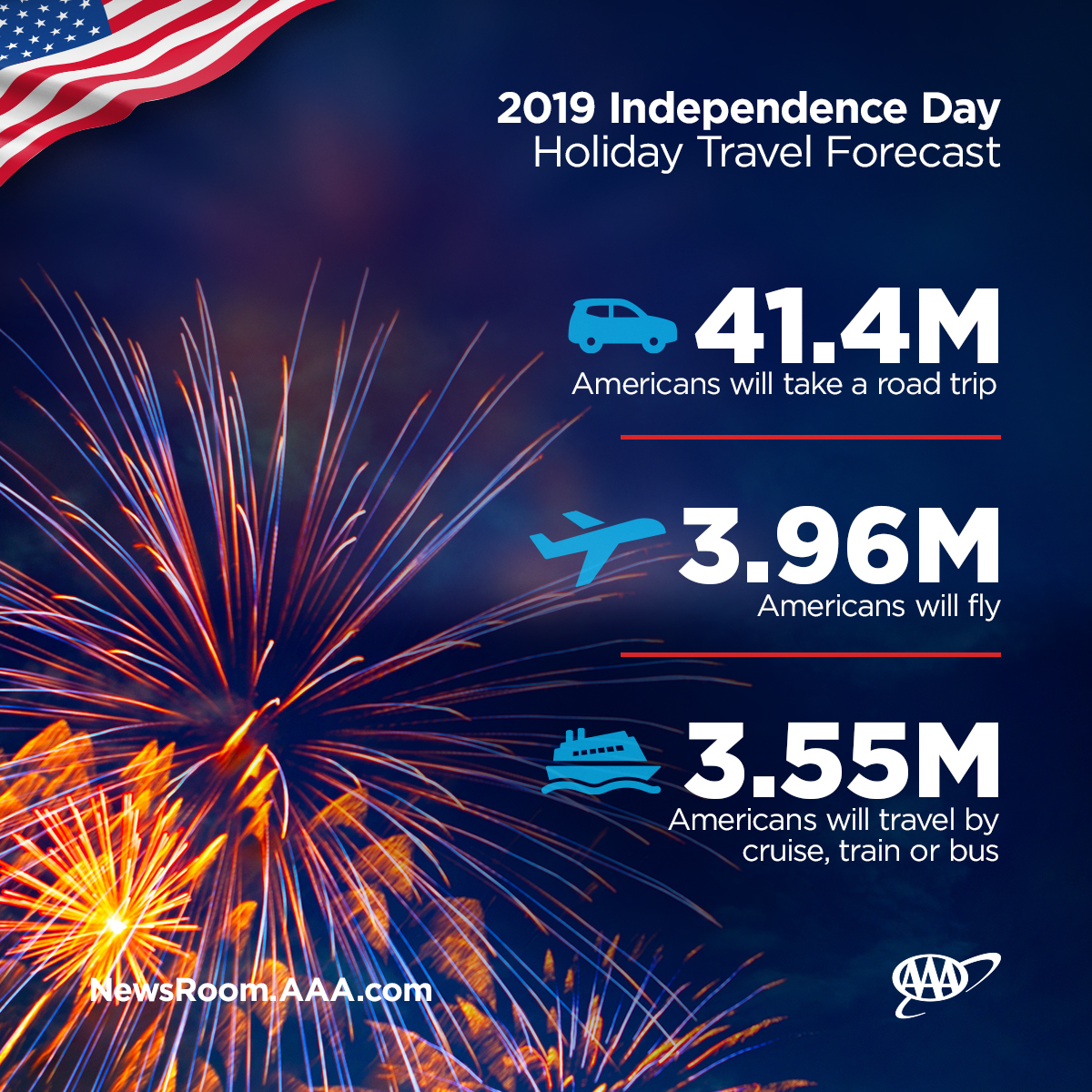 Travel Trends
How many people will travel this Independence Day?
More Americans than ever on record since AAA began tracking holiday travel in 2000, nearly 49 million, are making plans to travel this Independence Day. Overall travel volume for the holiday is expected to rise 4.1% over last year, with an additional 1.9 million people planning road trips and other vacations.
How will people get to their Independence Day destinations?
The vast majority of travelers—41.4 million Americans—will drive, the most on record and 4.3% more than last year. Air travel is expected to increase 5.3% over last year, with 3.96 million Americans taking to the skies. Travel by other modes of transportation, including cruise ships, trains and buses, will increase at a slower rate, 0.6%, to 3.55 million passengers.
Why are more people traveling this year?
In addition to lower gas prices compared with last year, broader economic fundamentals remain strong. Low unemployment, robust consumer spending, and rising disposable incomes are all encouraging more consumers to invest their hard-earned money in travel this summer.
When will most people set out on their road trips?
For the record-high 41.4 million Americans traveling by automobile this Independence Day, INRIX, in collaboration with AAA, predicts drivers will experience the greatest amount of congestion on Wednesday, July 3 as commuters mix with holiday travelers. In major metros, drivers could face delays as much as four times a normal commute. Nationwide, delays are expected to increase by approximately 9%.
| | | | |
| --- | --- | --- | --- |
| Region | Worst Day for Travel | Worst Time for Travel | Delay Multiplier |
| Atlanta | Friday, July 5 | 5:00 - 7:00 PM | 2.5x |
| Boston | Friday, July 5 | 10:00 AM - 12:00 PM | 3.4x |
| Chicago | Friday, July 5 | 1:00 - 3:00 PM | 2x |
| Detroit | Wednesday, July 3 | 2:00 - 4:00 PM | 2x |
| Houston | Thursday, July 4 | 1:00 - 3:00 PM | 3x |
| Los Angeles | Wednesday, July 3 | 11:30 AM - 1:30 PM | 2.7x |
| New York | Wednesday, July 3 | 1:45 - 3:45 PM | 3.8x |
| San Francisco | Wednesday, July 3 | 1:30 - 2:30 PM | 2.5x |
| Seattle | Thursday, July 4 | 12:00 - 2:00 PM | 3x |
| Washington, DC | Sunday, July 7 | 10:30 AM - 12:30 PM | 2.4x |
Where are most people traveling this Independence Day?
Fun-in-the-sun locales like Orlando and Honolulu will top the list of popular destinations for American travelers this Independence Day holiday. They are the top destinations in the U.S. this Independence Day weekend, based on advance AAA Travel bookings, followed by Seattle, Las Vegas, Anaheim, New York City, Boston, Maui, Anchorage and Chicago.
For those travelers planning an international vacation, Europe is the destination of choice. Rome, London, Dublin and Paris are the most popular spots for international vacations this Independence Day, with Vancouver, Canada -- a top departure port for popular Alaskan cruises -- rounding out the top five.
Are the continued Boeing 737 Max cancellations having an effect on Independence Day/summer travel?
Airlines have announced cancellations of Boeing 737 Max flights through at least the beginning of August, but this has had a limited impact on overall flight capacity that could affect the volume of air travelers for Independence Day. Airfares are trending 10% higher this Independence Day compared to last year, which may be partially due to the Boeing 737 Max grounding, but is also attributable to the strong economy and robust demand for air travel.
AAA recommends travelers check with their airline and travel agent for any potential changes to their travel plans, whether they were booked on a Boeing plane or not as cancellations of Max flights may affect other portions of the airlines' schedules. For the most part, airlines are allowing customers previously booked on cancelled Max flights to rebook on alternative flights without any additional fees.
How are the new Cuba travel restrictions affecting travelers?
The U.S. Department of Treasury unveiled regulatory changes including restrictions on non-family travel to Cuba, effective June 5. This removed the authorization for group, people-to-people educational travel and prohibited cruise ships from departing the U.S. for Cuba. Travelers who had completed at least one travel-related transaction prior to June 5 for previously authorized travel to Cuba were to be "grandfathered" in and allowed to complete their trip. Travelers should consult with their travel agent and travel providers for any potential changes to itineraries.
Travel Costs
How are gas prices factoring into Independence Day travel this year?
With today's national average of $2.68, gas prices are 21 cents less year-over-year and expected to drop even lower into the summer. This is motivating record numbers of travelers to take road trips for the holiday weekend.
How much will hotels, airfare and car rentals cost travelers this year?
Some of the savings travelers are enjoying from lower gas prices will go toward other travel costs this holiday, which are trending higher. According to AAA's Leisure Travel Index, airfares on average are 10% more expensive compared with last Independence Day, while average car rental rates are 5% higher than last year, at $69 daily. Meanwhile, midrange accommodations are expected to cost travelers between $153 for AAA Two Diamond and $189 for AAA Three Diamond Rated hotels.
Travel Tips
What advice do you have for people traveling by car this Independence Day?
AAA expects to rescue nearly 367,000 motorists at the roadside this Independence Day weekend. Dead batteries, flat tires and lockouts will be the leading reasons AAA members will experience car trouble. Motorists should take their vehicles to a trusted repair facility to perform any needed maintenance before heading out on a road trip. Additionally, before hitting the road, motorists need to be prepared for emergencies by taking along a mobile phone and car charger, a flashlight with extra batteries, a first-aid kit, a basic toolkit, and drinking water and snacks for all passengers.
What advice does AAA have for people flying?
The number of travelers flying this Independence Day will hit a record high, with 3.96 million people taking to the skies. The airports will be busy and security lines may be longer than usual. Travelers should plan to arrive at the airport at least two hours prior to the scheduled departure of their flight. To expedite travel, AAA recommends travelers enroll in programs such as TSA PreCheck and Global Entry.
How can people stay safe while traveling this Independence Day?
Get plenty of rest before setting out on a road trip and schedule breaks every two hours or 100 miles to remain alert and avoid driving drowsy. Motorists should be aware of all traffic laws, particularly those related to handheld or other mobile device bans, for the states through which they will be traveling. Also, be aware of the dangers of cognitive distraction while driving. Hands-free and in-vehicle technologies can mentally distract drivers, even if their eyes are on the road and their hands are on the wheel. Drivers should designate a passenger to serve as their official text messenger and navigator.
What advice do you have for travelers going abroad this Independence Day?
Carry an additional form of identification such as an International Driving Permit, which can be obtained at a AAA branch office. Travelers should make two photocopies of all travel documents, including passports, in case of an emergency. Leave one copy with a trusted friend or relative at home and carry the other separately from your originals in case of loss or theft. Keep the passport locked up with other valuables while touring, but always carry some form of ID.

Enroll in the Department of State's Smart Traveler Enrollment Program, or STEP. By enrolling, U.S. citizens make it easier for the nearest embassy or consulate to contact them in case of an emergency.

Allow yourself plenty of time at the airport. People traveling into the United States on an international flight may now be subject to enhanced screening procedures and should plan to arrive at the airport three hours early.

Broaden your peripheral vision while on vacation and always remain vigilant about your personal security and surroundings.

The decision to travel is a very personal one that must be made by the individual. Everyone should stay informed and remain vigilant when traveling.
Methodology
How does AAA come up with these forecasts?
AAA's projections are based on economic forecasting and research by IHS Markit, a London-based business information provider. For the purposes of this forecast, the Independence Day holiday travel period is defined as the five-day period from Wednesday, July 3 to Sunday, July 7. In cooperation with AAA, IHS Markit developed a unique methodology to forecast actual domestic travel volumes, using macroeconomic drivers such as employment; output; household net worth; asset prices including stock indices; interest rates; housing market indicators and variables related to travel and tourism, including prices of gasoline, airline travel and hotel stays.
The complete AAA/IHS Markit 2019 Independence Day holiday travel forecast is available here.
How does INRIX compile its traffic data?
INRIX analyzed Independence Day holiday periods from 2013-2018, traffic trends from major national holiday weekends and current traffic trends to predict what drivers might expect for the upcoming holiday period. For more information, visit www.inrix.com.
---
View the Holiday Travel Report here.